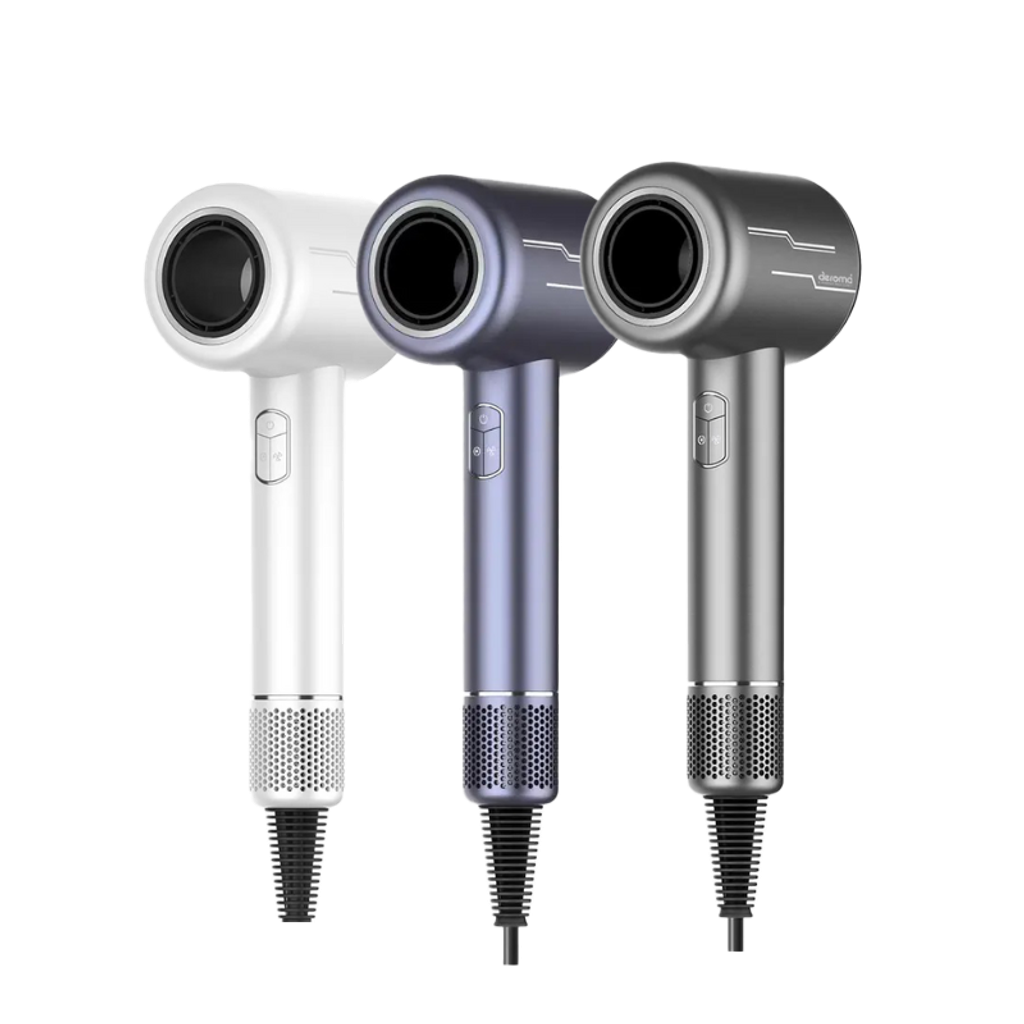 Deroma ARTRO Bladeless Hair Dryer Anion Hair Care Hot & Cold Air WIth Smooth Hair Nozzle
New Deroma ARTRO Bladeless Hair Dryer With Anion Hair Care, Hot & Cold Air and Smooth Hair Nozzle
Warranty & After Sales Service We Offered:
• 1 to 1 Exchange if product not function / manufacturer defect
• Money Back Guarantee Policy in 15 days ensure that our customers are happy with the purchase.
• Sales Gallery at Ampang, KL available for walk in.
• All Deroma products guarantee enjoy 30 days free shipping return policy.
• 1 year warranty will automatically activated once item delivered to your door step.
• For more information, please pm to our customer service via chat. We're pleasure to serve you!
• Please follow us to get discount voucher and place your order now to experience the best from us!
***Thank you & enjoy your shopping with Deroma®!***
Features:
• 130000 RPM brushless / bladeless digital motor. The 13-piece aluminium wind wheel runs quickly, drying and cooling quickly
• Cold and hot air one key frequency conversion function; Alternate cold and hot air circulation to protect hair health
• 3 wind speed gear
• 4 temperature gear, cold and hot air gears can be switch at will
• The motor reverses the cleaning mode and shuts down automatically after cleaning for 10 seconds (Intelligent reverse blower regularly clean to prevent dust blocked the air flow)
• Light touch electronic switch, better feel and durability
• Equipped with magnetic double-layer anti scalding mouthpiece
• Anion hair care
• Noise reduction technology design
• Intelligent constant temperature technology
• Magnetic Connection design - magnetic accessories can be quickly and easily attached to the front of the product, and can be rotated 360° so that can place them precisely when needed
Specifications:
• Brand: Deroma®
• Product: Bladeless Hair Dryer
• Model: ARTRO
• Material: ABS
• Power: 1600W
• Speed: 130000 rpm
• Max. Operating Temperature under Normal Operating Conditions: 105°C
• Max. Thermistor Temperature at Safe Shutdown: 145°C
• Noise: 54db
• Size: 30*9.8*8cm
• Net Weight: Approx. 600g
What's In The Box & Package Included:
• 1 x Deroma ARTRO Hair Dryer
• 1 x Smooth Air Outlet
• 1 x Instruction Manual
Friendly Reminder:
• Do not clean the filter with water
• Do not apply too much pressure to the air filter
• Please note that Molding Air Outlet and Diffusion Outlet is not included in this package (which is shown in instruction manual)
• The exhaust ports and metal rings may be hot during use. Please do not touch to prevent any injury.
"Deroma® Official Store Boutique Life Electrical"
The Trusted & Reliable Brand Deroma® Original Product!