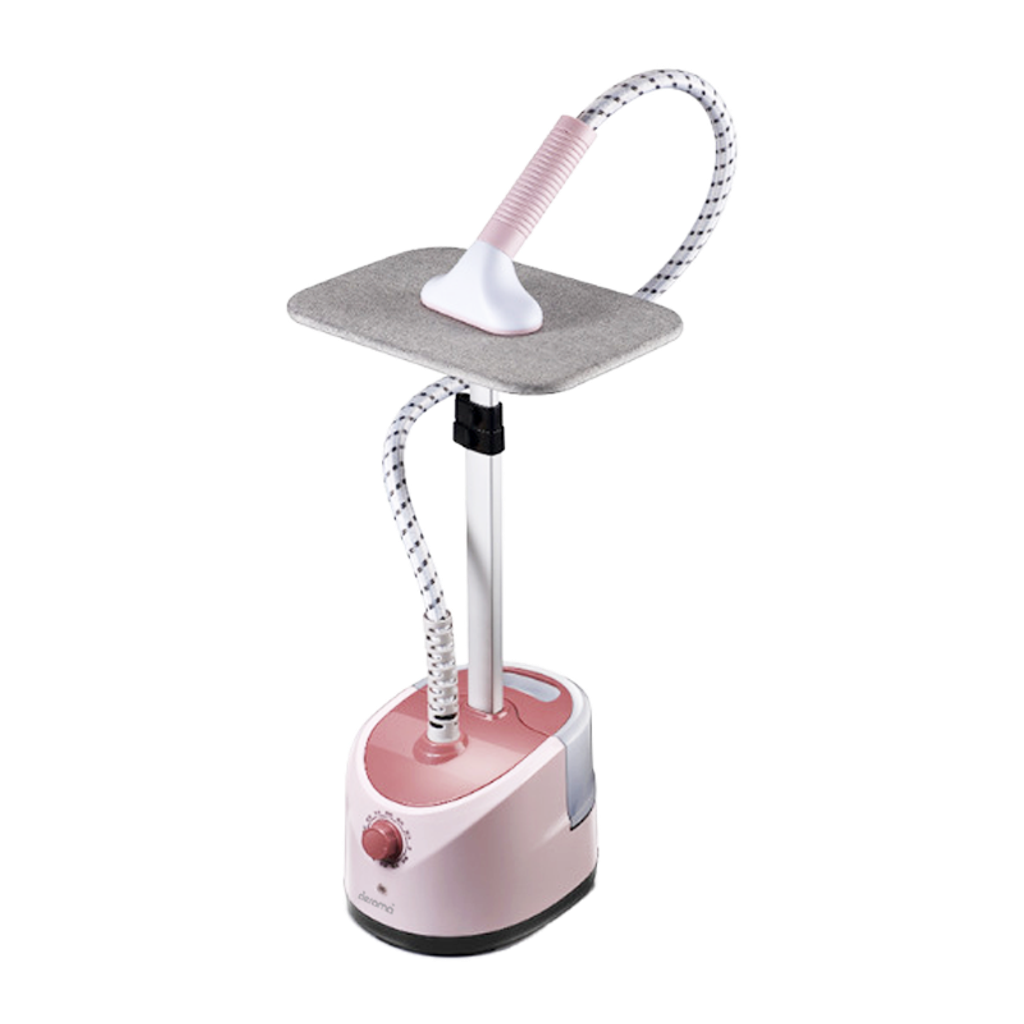 Deroma Eisen Plus SC-618 Garment Steam Iron With Ironing Board & Hanger Large Water Capacity
Deroma Eisen Plus SC-618 Steam Iron With Ironing Board & Hanger, 1.6L water capacity, steam whole family cloths one go hassle free!
# Up to 1 Year Warranty with established Mall Brand
# 1 to 1 exchange new set for manufacturer fault or broken (Guarantee)
# New upgraded with 11 gear for a smooth work remove wrinkles and unwanted creases quickly
# Limited 10 units open for special price only!
Highlights:
• 2 in 1, able to iron with Hanging and place on Board to iron
• 11 different gear steam mode- Cotton / Wool / Plus / Dacron / Nylon / Silk / Fiber / Spun Silk / Linen / Humidify / Strong
• 1.6L large capacity, do not need to add water frequently
• Intelligent temperature control with triple anti-dry burning protection
• Continuous large steam with 2000w power
• Adjustable Aluminium Alloy Telescopic Pole with 3 level of heights up to 150cm
• 9-hole Stainless Steel Nozzle to remove wrinkle without dead angle
• Fast heat up in 30 seconds
• Steam output 40g/min
• Continuous working up to 65 minutes
• Removeable water tank convenient to refill water
• Remove 99.99% of clothes bacteria with steam
• Malaysia 3 Pin Plug
Specifications:
• Brand: Deroma®
• Product: Steam Iron
• Model: Eisen Plus SC-618
• Power: 2000W
• Voltage: 240V
• Water Capacity: 1.6L
• Adjustable Height: 3 Level Up To 150cm
• Steam Gear: 11 Gear
• Product Weight: 3kg
• Package Size: 38*27*30.5cm
What's in the package:
• 1 x Deroma Eisen Plus SC-618
• 1 x Telescopic Stand
• 1 x Steam Head Holder & Hanger
• 1 x Iron Board
• 1 x English Manual Book
• 1 x 1 Year Warranty
• 1 to 1 exchange manufacturer faulty by Deroma
Friendly Reminder:
* Be caution when using this product as this produce high temperature steam
* Do not touch the stainless steel nozzle during steam
* Warranty is only cover for Motor/Machine defect only(manufacturer defect) Any external defect such as crack/loose is not covered under warranty
"Deroma Official Store Boutique Life Electrical"
The Trusted & Reliable Brand Deroma Original® Product!
Comfort Your Life!