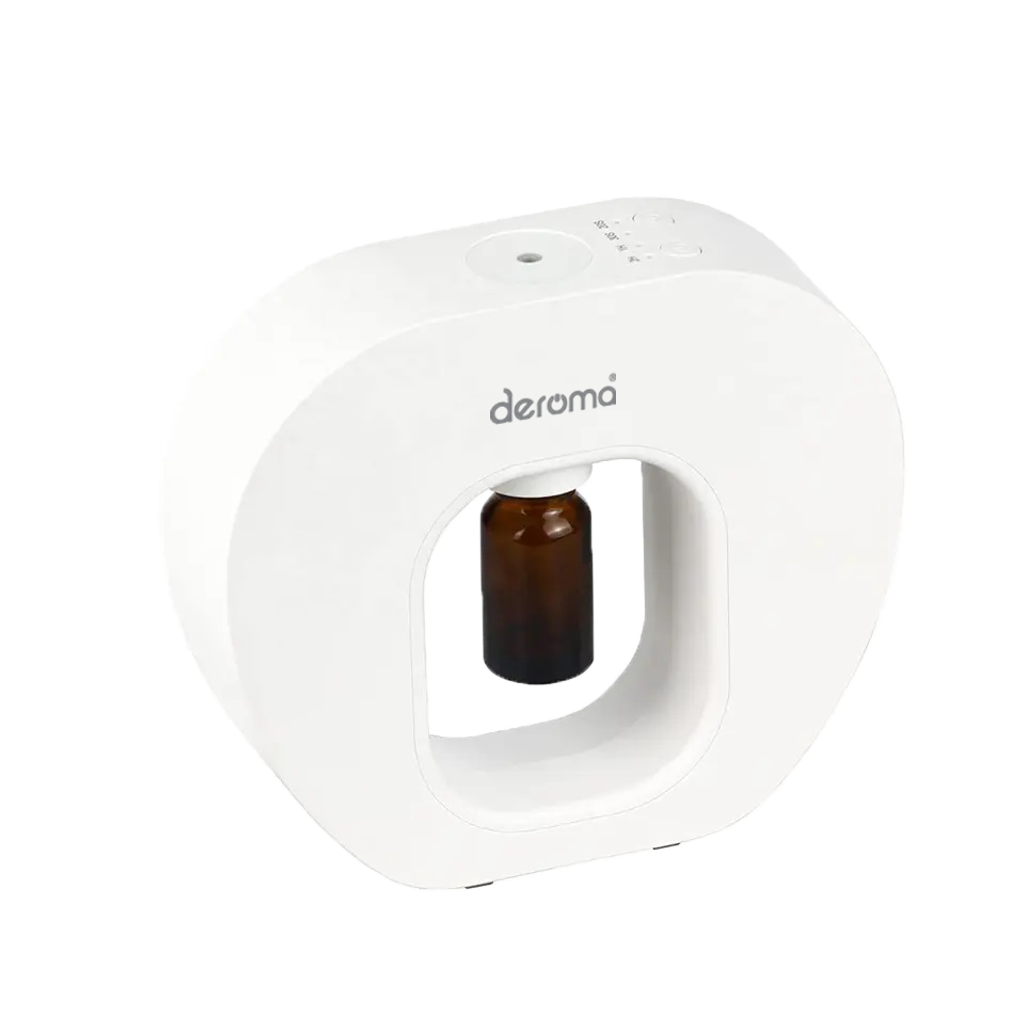 Deroma® E500 Waterless Essential Oil Diffuser Nebulizer Apple Design Aromatherapy - Portable & Rechargeable
NEW Malaysia Local Ready Stock Waterless Essential Oil Aroma Diffuser Nebulizer – Portable and Rechargeable – Ship out by next working day!
Now you can enjoy the good smell anywhere with Deroma Portable Waterless Essential Oil Aroma Diffuser Nebulizer!
Features:
• Waterless: Diffuse pure essential oil without adding any water and no worries of water splitting anymore! Stronger and long-lasting fragrance.
• Wireless: Rechargeable and use without using cable. Able to bring and use anywhere.
• Type-C charging interface: 5V voltage, USB data cable, can be connected to mobile phone plugs, power banks, computers, and in-vehicle use.
• Long Battery Cycle: the charging time is 6.5 hours. Built-in 4000MAH lithium battery, it can be used for about 250 hours and about 60 days on a single charge.
• Timer: Able to set timer at 1H and 2H
• Silence: Produce fine mist with noise lower than 35 dB, you will be able to work or rest without disturbed
• Intermittent Mist: 2 gear. 30s (working 30s, stop 60s); 20s (working 20s, stop 60s)
• Anti-overflow design: The essential oil is not easy to leak when inverted
• Applicable scenarios: Home, Office, Hotel, Workout, Car, Bedroom and anywhere
Essential Oil:
• Water-soluble essential oils: adding water-soluble essential oils will produce a small amount of mist after turning on the aromatherapy machine, and the aroma will slowly radiate into the air.
• Pure essential oils: After adding pure essential oils to turn on the aroma diffuser, there is no mist, but the aroma will slowly radiate into the air.
• Both of these conditions do not affect the volatilization of essential oils into the air, which are normal conditions.
Specification:
• Brand: Deroma®
• Product: Essential Oil Diffuser Nebulizer E500
• Material: Aluminium Alloy
• Capacity: 5ml / 10ml / 15ml / 20ml
• Coverage Area: Within 100 square meters.
• Power Supply Mode: USB Type-C Charging Interface
• Power: DC 5V, 1A
• Battery: Built-in 2000MAH lithium battery
• Charging Time: 2-3 Hours
• Usage Time: 20s on, 60s off --- 19.5H ; 30s on, 60s off -- 15H
• Timer: 1H and 2H
• Weight: 365g
• Size: 69mm*69mm*140mm
Package Included:
• 1 x Deroma EO Diffuser Nebulizer E500
• 1 x 20ml EO Bottles (Inside the Machine)
• 1 x Type-C Power Cord
• 1 x Atomization Core
• 1 x Atomization Core Replacement Tool
• 1 x Essential Oil Pipette (5ml, 10ml, 15ml, 20ml)
• 1 x Dual Language Instruction Manual
Package Add on:
• Deroma Essential Oil 30ml – 10 types of flavour to choose
Note:
• The pure essential oil will be split into nano particles and you can barely see the mist, which is different from the normal aroma diffusers or humidifier.
• Recommend to use in room temperature 10°C ~ 50°C
• Recommend to use pure essential oil or volatile and non-sticky essential oil
"Deroma® Official Store Boutique Life Electrical"
The Trusted & Reliable Brand Deroma® Original Product!